Sanar Naturals Premium Collagen Pills with Vitamin C & E, 150 Capsules, Supports Hair Growth, Skin, Nails, & Joints, Anti Aging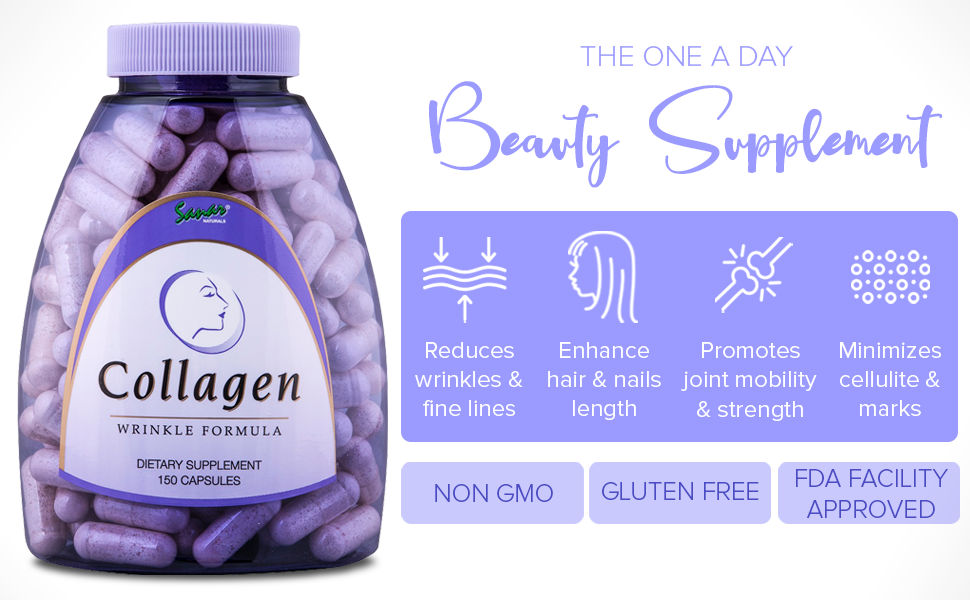 Collagen Positive Aging Supplement
Collagen is the primary structural component for all tissue in the body. By age 25, collagen's production slows at a rate of 1.5% per year. This reduction in collagen contributes to weaker bones, dull and dry skin, joint pain, brittle hair and fragile nails.
Regenerating and forming new tissue is the key benefit of adding collagen to your diet! Our unique formula for beauty includes Vitamin C, Vitamin E, and Rose Hip. Each ingredient works perfectly together to help you build, maintain and recover collagen naturally.
Collagen Supplements are frequently studied and clinically proven an essential dermal repair booster for your face and body. Hydrolyzed collagen helps clear your skin of acne while supporting advanced hair growth, gut health, skin tightening, plus metabolism.
Our unique wrinkle formula contains Vitamin C, an agent that greatly enhances collagen restoration

Helps stimulate of the body's collagen cycle to renew tissue more efficiently

Supports the digestive system by improving the gut lining

Protein & amino acid profile helps regulate metabolism.
Improves hydration, elasticity & firmness in the skin

Builds strong, longer lasting nails

Promotes quick & thick hair growth

Maintain youthful, radiant skin for years to come.
Increases bone mineral density

Promotes speedy muscle recovery & preservation

Helps restore and preserve cartilage

Strengthens connective tissues & joints for better flexibility