Purely Northwest Tea Tree Oil Foot Soak with Epsom Salt, Toenail Fungus, Athlete's Foot and Stinky Foot Odors. Softens Dry Calloused Heels, 1 LB

The Original Tea Tree Foot & Nail Soak
Experience the all-natural way to luxuriously heal, soothe and rejuvenate tired aching feet. Our all-natural blend of 100% therapeutic-grade tea tree oil, Epsom salts, MSM, Dead Sea Salts and six other essential oils including eucalyptus, rosemary, lavender, and peppermint work together to eliminate fungus and bacteria without harsh chemicals.
Busy professionals, athletes or anyone who could use a sensual and soothing foot soak will love the clean and refreshed feeling in their feet and toes after just their very first use.
Our foot soak can help alleviate athlete's foot, nail fungus, dry cracked heels, calluses, plantar fasciitis pain, gout pain and sore tired feet for men, women, and children of all ages and lifestyles.
We use proven ingredients and essential oils that penetrate deep to soften and smooth hard dry skin, foot fungus, and nail fungus. Our ingredients help eliminate foot odors and keep your feet smelling fresh and clean. Most of our customers like to relax with a nightly foot soak, but our foot soak can be enjoyed at any time of day as your schedule permits.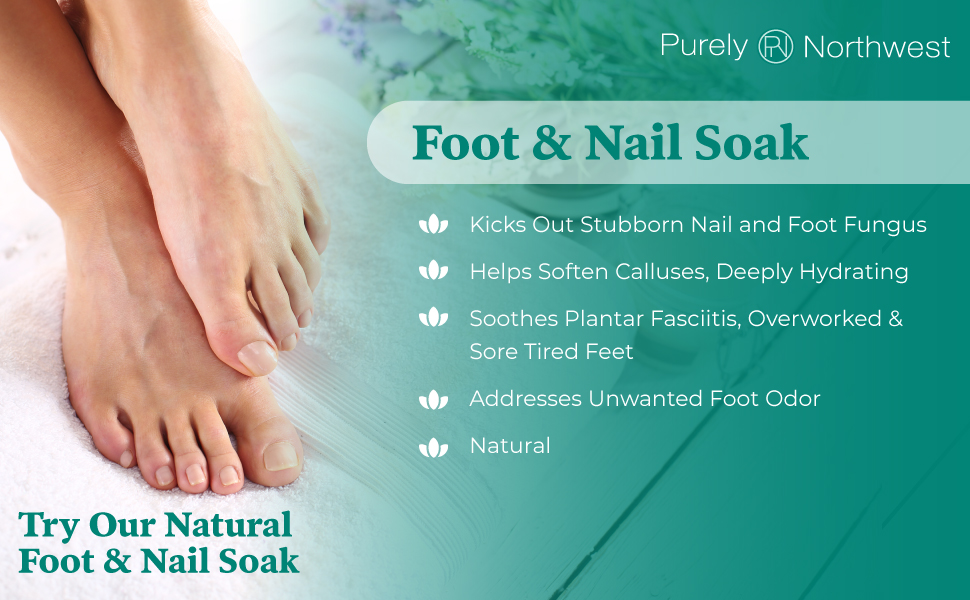 Unrivaled Blend of Premium Ingredients
Our philosophy is to create high-quality products that deliver exceptional results. That's why we only use premium ingredients including 100% therapeutic-grade tea tree oil and other premier essential oils designed to promote overall foot health and healing. Each bag of foot soak is fortified with MSM, which is a powerful anti-inflammatory that can help reduce pain and stiffness in your joints. Epsom salt and Dead Sea Salts are naturally fortified with nutrients and minerals.