Nested Naturals Choline Bitartrate 500mg, 90 Capsules, Promotes Brain Health, Mental Focus & Memory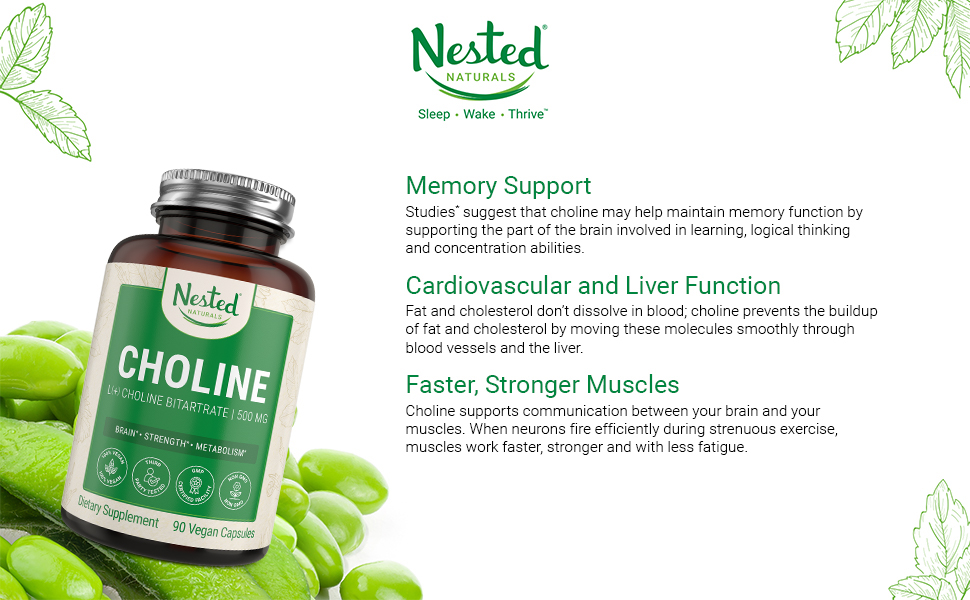 PROMOTE A HEALTHY BRAIN AND NERVOUS SYSTEM - Choline is a vital component of your neurotransmitters, taking supplemental choline can help promote the health of your nervous system. Choline may also play a role in maintaining memory support and focus.

500MG OF CHOLINE FOR PREGNANT & BREASTFEEDING MOTHERS - Nested Naturals Choline supplement contains 500mg of L+ Choline Bitartrate, vital for pregnant and breastfeeding mothers. Choline supports a well-balanced diet during pregnancy to promote normal prenatal development and growth. Choline can also be taken while breastfeeding to continue supporting your baby's health.

SUPPORT OVERALL HEALTH - Along with a well-balanced diet, adequate intake of choline helps support and maintain the health of the liver. Choline is also involved in the metabolism of fatty acids, which are an important source of energy for the body and brain.

SOCIALLY CONSCIOUS SUPPLEMENTS - Our Choline is is 100% vegan, non-GMO, gluten-free, soy-free and allergen-free. It is manufactured in our GMP & NSF Certified facility and Third-Party tested for quality assurance.