HUM Hair Sweet Hair Gummies Hair Growth Vitamins with 5000mcg Vegan Biotin, B Vitamins, Fo-Ti & Zinc, 60 Count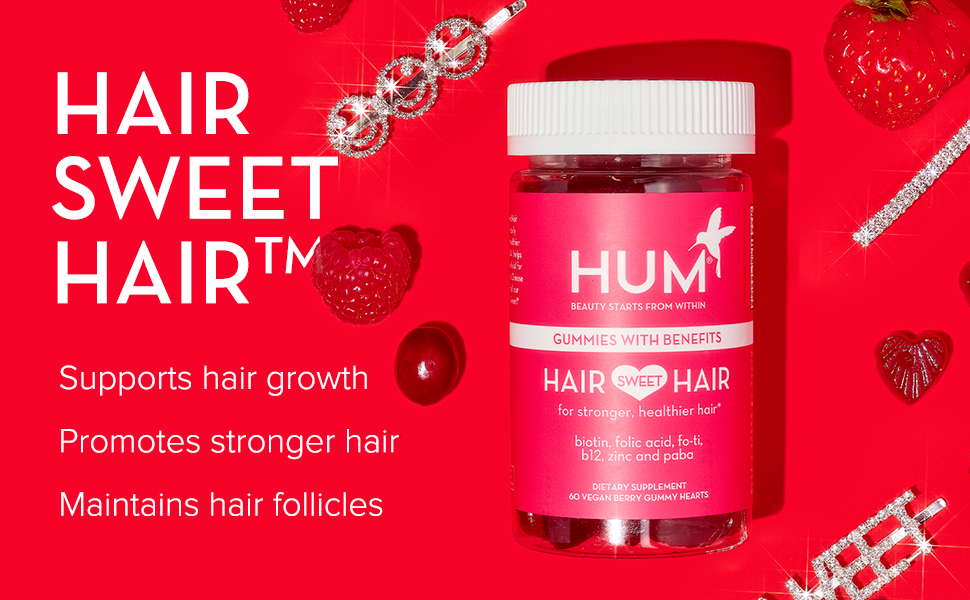 DISCLAIMER:
During transit, content 'unavoidably' becomes moist. this is normal & experienced also by US customers (you can check it online). Moisture causes the foil seal to flip (sometimes upon opening) that does not mean it's not sealed, rest assured gummies are stored in a well conditioned place 24/7. If product is delivered completely melted or formed in one glob, this means it's exposed to high heat during transit and is NOT fault of the seller. We can help you get a refund from the courier, just message us & we'll help you.
There is nothing better than hair that is strong, healthy and vibrant. We combined the best hair health ingredients to provide you just that!
Hair is made-up of proteins, specifically keratin. To produce keratin the body needs to maintain healthy cellular function through adequate levels of biotin, b-12, and folic acid. Zinc maintains the health of hair follicles and deficiencies have often been associated with brittle hair. Fo-ti, a Chinese herb, along with PABA, increase strength and pigment of hair. Hair Sweet Hair provides nutrients to help boost the bodies ability to maintain healthy, vibrant hair.*