Cedar Markers Liquid Chalk Markers 12 count with Free 40 Chalkboard Labels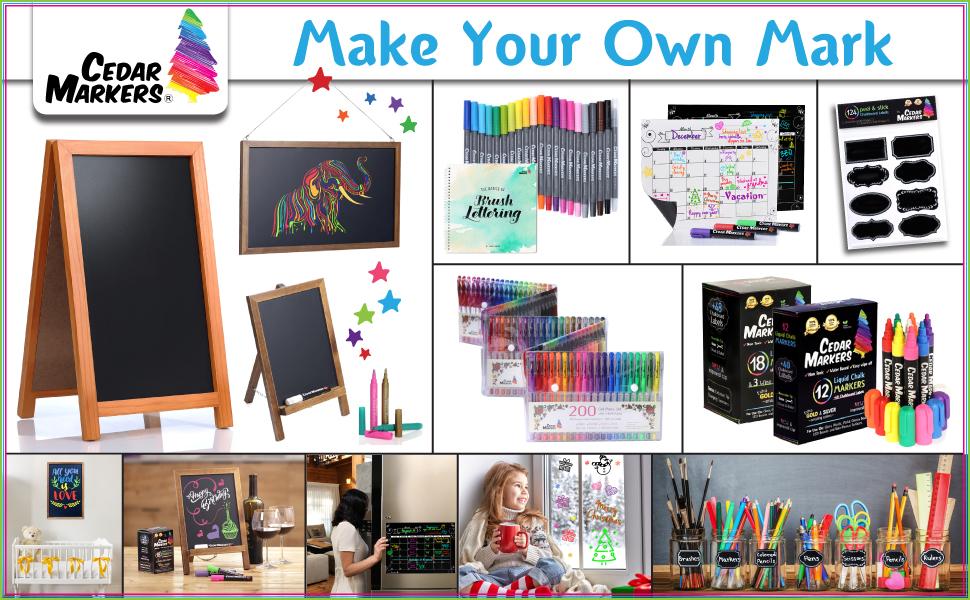 THE WAIT IS OVER!!!

Cedar Markers brings you the best deal ever.

12 amazing liquid chalk markers with neon colors including our special and unique Japanese ink gold and silver markers.

We give you the best gift yet. 40 chalkboard labels in 8 different designs for you to have fun with. The possibilities are endless.

Each chalk pen comes with a reversible tip that can be used with a bullet or chisel option.

Stop using the old liquid chalkboard markers and join the Cedar Markers revolution. Unlike other types of chalkboard markers, our new and improved cap will save the tip from getting damaged. This will prolong the lifespan of your chalk pens.


WHAT DO YOU GET WHEN YOU BUY OUR MARKERS? 

★ Vibrant chalk markers assorted colors that will illuminate your day.

★ Liquid chalk markers fine tip with chisel and bullet options.

★ Jumbo 12 pack with all the best colors including extra unique Gold and Silver.

★ Easy clean up from all non-porous surfaces.

★ Dust free and green product. Approved by American and European quality institutes.

★ Hours of incredible fun for all the family.

OUR VERY OWN TOUCH 




Cedar Markers is all about innovation and creativity. We always think of new ways to make our product better and your life easier.





So we came out with the idea of adding our own EXCLUSIVE TIP CHANGING TWEEZERS. 





Instead of getting your hands dirty with ink when you change the tip from bullet to chisel (or the other way around), just use our awesome set of tweezers and do it without the mess. Just take the tip out, reverse it and put in back in. Its that easy!

PERFECT FOR 100% NON-POROUS SURFACES 




CHALKBOARDS  Chalk markers erase only when used on 100% non-porous surfaces. NOT ALL CHALKBOARDS ARE SUITABLE FOR THE USE OF CHALK MARKERS. PLEASE TRY THE MARKERS ON SMALL AREAS FIRST TO AVOID RUINING YOUR BOARD.

WHITEBOARDS  Whiteboards are the perfect match for our chalk markers. Being non-porous, you can erase the ink with ease and start you project all over again when you want to.



Just use a baby wipe and then a dray paper towel and you are good to go.

HOME DECORATION  Use our Liquid Chalk Markers to decorate your home.



Use them on glass, plastic, metal and other suitable surfaces and fill in your home with vibrant colors.