VeeFresh VeeCleanse Boric Acid Vaginal Suppositories, Promotes Healthy Vaginal pH, 600 mg, 30 Count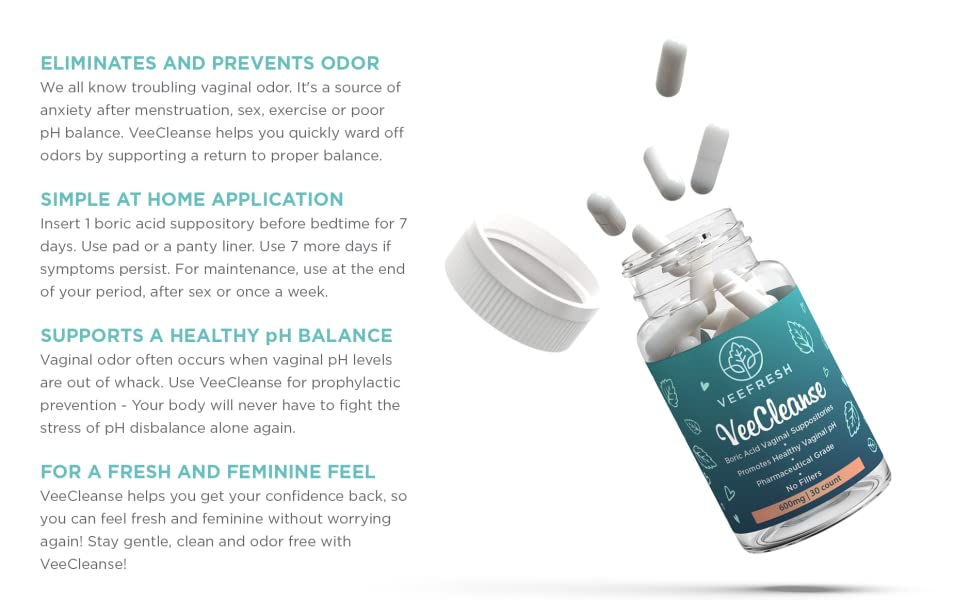 100% AUTHENTIC AND FROM THE USA.

FEEL FRESH AND FEMININE: Many women struggle with occasional or recurring vaginal infections. Boric acid naturally relieves and prevents vaginal discomfort. It is a holistic BV treatment for women and yeast infection treatment. Made in the USA.

RELIEVE & PREVENT DISCOMFORT: To relieve bad odor, itching, and pain during sex insert with a suppository applicator or finger one capsule in your vagina before bedtime for 7 days. Use a pad or a panty liner. For maintenance, use after sex and at the end of your period.

RESTORE YOUR NATURAL pH: When your vaginal pH drops below the normal range, you become vulnerable to bacterial vaginosis, yeast infections, vaginitis, and dryness. Our boric acid capsules with 600mg boric acid powder clear up the symptoms and restore your pH balance.

BOOST YOUR VAGINAL HEALTH: Boric acid is a natural compound, which is a safe and effective alternative to conventional treatments. Boric acid vaginal suppositories won't make you bounce back and forth from yeast to BV. Feel good about your vagina and get your confidence back!