TuffMan Tools, Roll Pin Punch Set with Soft Mallet - Great for Gun Building and Removing Pins, 9 Piece
For manly men that like using the right tools for the job! TuffMan roll pin punch & mallet set is ideal for small equipment, machine & gun services, and repairs. These roll pins & mallet are safe to use, it drives out or inserts hollow pins & springs without causing any damage. Each punch is drop forged, heat treated, hardened and knurled steel for greater durability. Roll pin punches & the mallet combined make one comprehensive tool kit for convenient workability, and overall performance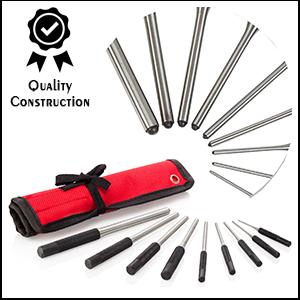 Quality Construction:
TuffMan tools are made of finest quality material. We make our tools tough & with precision. Our tools are drop forged, heat treated, hardened and knurled steel for greater durability. They're transformed into thin punches to remove the pins from their tubes successfully. These roll pins absorb most forces without chipping & the soft mallet is built to last even after regular usage.
Comfortable Grip:
You need to have the perfect grip while you're repairing something. The textured pin handles give you a comfortable grip for easy & precise movements. Also, mallet handle shape provides more control, so your hand doesn't slip even while working for a longer period.
Package Includes:
This tool set is great for Handymen & Watchmakers, and it can also be used to remove pins on cars & boats. The package includes nine roll pins & mallet which are available in different sizes like 5/16", 1/4", 7/32", 3/16", 5/32", 1/8", 3/32", 5/64", 1/16" & the mallet size is 35mm.
Double Faced Mallet:
Our mallet is meticulously crafted with high-quality material and anti-vibration technology so it minimizes vibration and shock at impact. Also, this mallet delivers the perfect solid strike without damaging small parts or finished work surface.