Theraflu Nighttime Multi-Symptom Severe Cold Powder Tea Infusions, Green Tea & Citrus Flavors, 6 Packets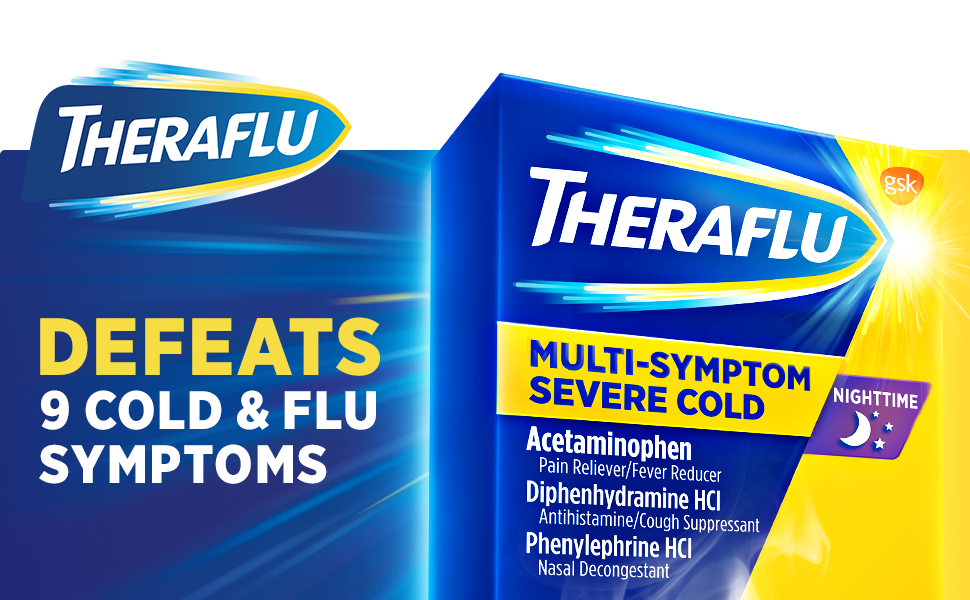 How it works
Theraflflu Nighttime Multi-Symptom Severe Cold Hot Liquid Powder Tea Infusions Green Tea & Citrus brings the heat to fight your worst cold and flu symptoms. Each power-packed dose helps provide relief from nasal and sinus congestion, cough, body aches, sore throat pain, sneezing, runny nose, headache, fever, itchy nose or throat, and itchy watery eyes due to hay fever.
How to use
Dissolve a single packet of delicious green tea and citrus flavored powder into hot water to help relieve your worst cold and flu symptoms. Can be taken every four hours, while symptoms persist. Do not take more than 5 packets in 24 hours unless directed by a doctor. This medicine is intended only for adults and children 12 years of age and over.
Feel the Warmth
A soothing blend of cold & flu fighting ingredients available in 3 delicious flavors. Or, for a different experience that also provides powerful symptom relief try Theraflu ExpressMax Nighttime Severe Cold & Cough Syrup Berry flavor.