Nuvana Shut Eye Natural Sleep Aid Non Habit Forming, 60 Capsules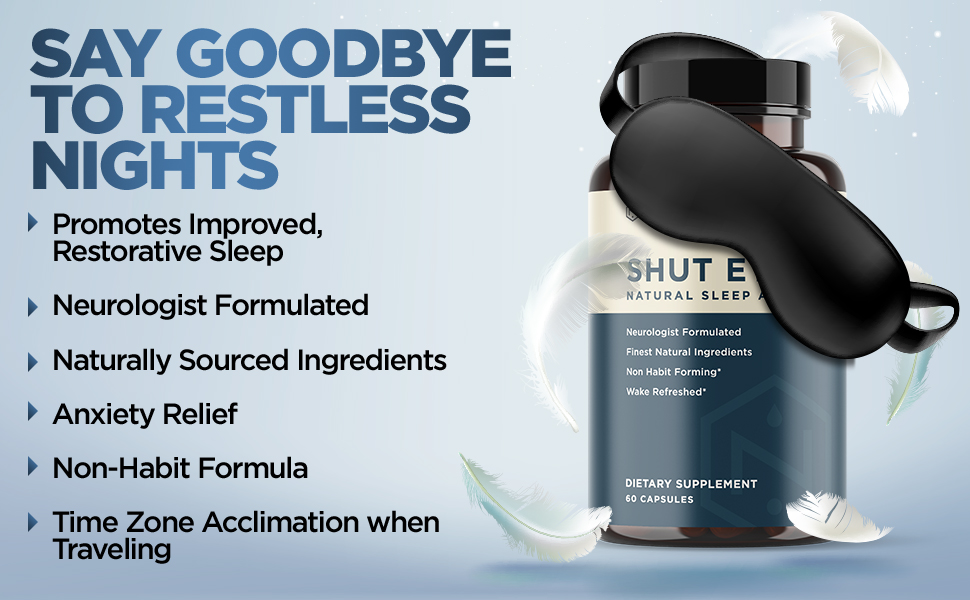 A SUPERIOR SLEEP - Shut Eye delivers an unsurpassed sleep experience. Fall asleep faster, stay asleep longer and wake up refreshed without side effects. Our maximum strength herbal sleep aid is non habit forming and promotes a more restful and restorative sleep than other products.

SAY "SO LONG" TO STRESS - A powerful combination of L-THEANINE & GABA induce relaxation by helping reduce feelings of worry and anxiety. Sleep faster, longer and deeper with Shut Eye. A truly satisfying slumber.

A NATURAL NIGHT'S REST - Shut Eye is formulated by renowned neurologist Dr. Mahyar Okhovat using only the highest quality all-natural ingredients. Lemon balm, passion flower, valerian root and chamomile combine with melatonin, magnesium and 5-HTP to soothe even the most restless of sleepers.

MADE IN THE USA - All Nuvana products are lab-tested & produced in a state-of-the-art facility following GMP (Good Manufacturing Practices) under a strict system of procedures, and documentation to ensure exacting levels of strength, composition, quality, and purity.