NutriFlair Ceylon Cinnamon, Made with True Ceylon Cinnamon for Healthy Blood Sugar Support, Joint Support, Anti-inflammatory & Antioxidant, 1200 mg per Serving, 60 Capsules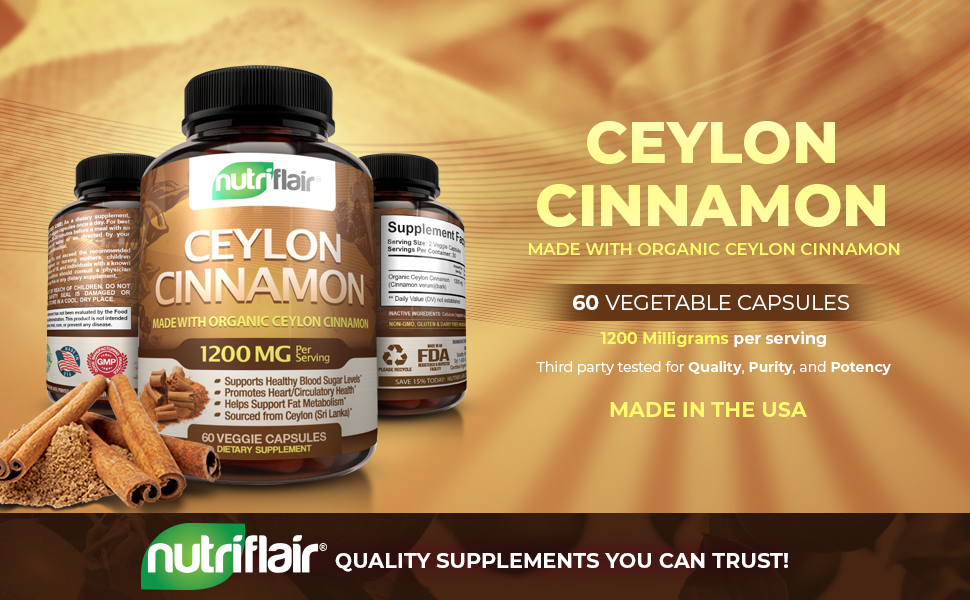 Experience the Amazing Benefits of Ceylon Cinnamon with the NUTRIFLAIR CERTIFIED ORGANIC CEYLON CINNAMON Supplement.
Originating from Ceylon (Sri Lanka), Ceylon Cinnamon has been known as the "True Cinnamon" or the "Real Cinnamon." It possesses outstanding health benefits, especially for those looking to regulate their blood sugar levels, and those challenged by obesity and high cholesterol issues.
The NutriFlair Ceylon Cinnamon Supplement is Made with All Natural Organic Ceylon Cinnamon Powder (Cinnamon Verum / Bark), here in the USA, and has been Certified Organic by the Utah Department of Agriculture (UDAF). It contains 60 Capsules (600 Milligram per Capsule), of unadulterated, Ceylon Cinnamon.
Safety Information
BLOOD SUGAR LEVELS: Cinnamon Herbal Supplements has been shown to promote and regulate healthy blood sugar levels, however individual results may vary. Please consult with a healthcare professional to determine if Ceylon Cinnamon is right for you. If you notice an irregular increase or decrease in blood sugar levels, or any other adverse effects from using this supplement, please discontinue use immediately. Some customers have reported that Ceylon Cinnamon makes them feel nauseated, dizzy, or sick. If you notice these or any similar side effects while taking NutriFlair Ceylon Cinnamon, please discontinue use immediately and consult your healthcare professional. If you are taking or have recently used other medications, please consult your healthcare professional before using this or any dietary supplement. Your satisfaction is our number 1 priority, and if you are not satisfied, simply contact us for a refund or exchange. Do not use if safety seal is broken or missing, or if product appears to have been tampered with. Contact us for a replacement or a refund if you are not comfortable using the product. Pregnant or nursing mothers, children under the age of 18, and individuals with a known medical condition should consult a healthcare professional before using this or any dietary supplement. Do not use if you are pregnant of nursing. Cease use immediately and contact a healthcare professional if you experience any adverse reactions. KEEP OUT THE REACH OF CHILDREN.
Indications
Supports Healthy Blood Sugar Levels
Ingredients
TRUE Ceylon Cinnamon (Certified by UDAF) (Cinnamon Verum)(Bark), Cellulose (Vegetable Capsule)
Directions
As a dietary supplement, take two (2) veggie capsules oncE a day. For best results, take 20 - 30 minutes before a meal with an 8 oz glass of water, or as directed by your Healthcare Professional.
Legal Disclaimer
Statements regarding dietary supplements have not been evaluated by the FDA and are not intended to diagnose, treat, cure, or prevent any disease or health condition.