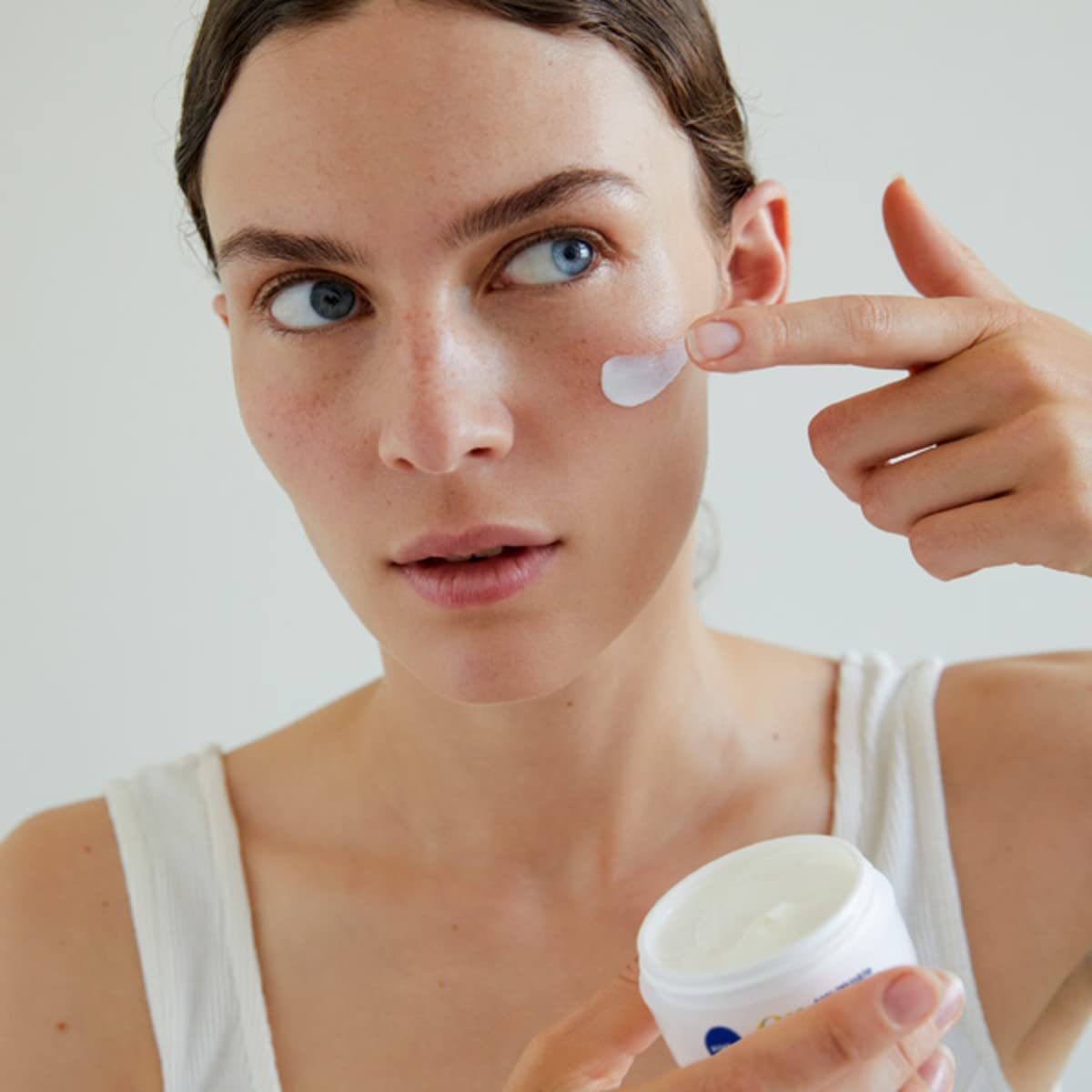 NIVEA Q10 Anti-Wrinkle Power Firming Day Cream SPF 15 - NIVEA's purest quality, 100% skin identical Q10, with dual action power for visibly younger-looking skin!
NIVEA's Anti-wrinkle moisturising cream helps reduce the appearance of fine lines and wrinkles with its improved formula made with dual action pure Q10 and Creatine. The Anti-wrinkle day cream firms the skin and reduces forehead wrinkles by 19%*, crow's feet by 17%* plus wrinkles around the cheek and mouth area by 25%*. NIVEA Q10 Anti-Wrinkle Power Firming Day Cream ensures 24h anti-wrinkle protection against free radical damage and external skin aggressors, while the dual action formula replenishes the skin with energy throughout the day. The day cream also features SPF 15 which provides protection against UVA/UVB rays and helps to guard against pre-mature skin ageing. Anti-wrinkle day cream enriched with 100% skin identical coenzyme Q10 and Creatine has skin looking smoother, nourished, and healthier after just 24 hours, while after 1 week skin is visibly firmer by up to 21% with reduced wrinkles. After 4 weeks, skin continues to improve and the formation of new wrinkles is prevented**.
Application information: Apply daily to a cleansed face by massaging gently into the skin, avoiding direct contact with the eyes. Receive optimal results and an enhanced daily face regime by using the Q10 Anti-Wrinkle Power Firming Day Cream together with Q10 Anti-Wrinkle Power Firming Eye Cream and Replenishing Night Cream.
Product benefits:
Effective on 3 types of wrinkles: forehead, crow's feet, and cheek and mouth area

Made with 100% skin identical Q10 and Creatine

Dual action formula replenishes the skin

Protection against free radical damage and external aggressors

SPF 15 protection against pre-mature skin ageing