Lypo-Spheric Glutathione 450mg Glutathione Per Pack, 100% NON-GMO, 30 Packets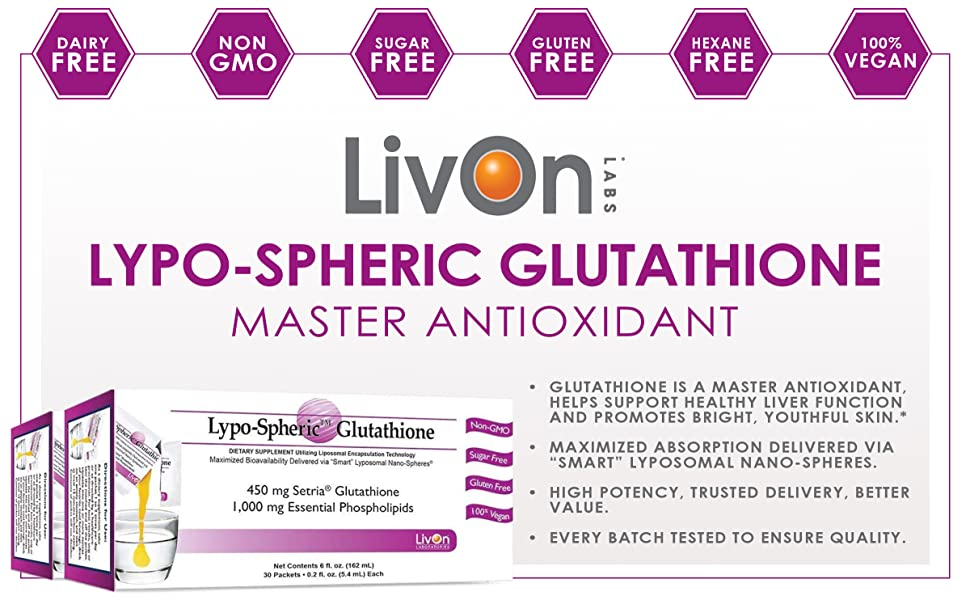 100% AUTHENTIC AND FROM THE USA.

It uses a revolutionary enhanced glutathione delivery method, liposomal encapsulation technology, designed to help your body absorb more glutathione.*

Actively supports a healthy liver and the natural detoxification process within the body.It is not necessary to supplement the precursors.Liposomes maximize the absorption of active glutathione.*

Glutathione is known as the Master Antioxidant and is one of the most important and powerful antioxidants in the body.*

Note: Rest assured that all packaging is fresh.Below you will find information on where to find the expiration date.

Vegan, non-GMO.Formula does not contain gluten, dairy, sugar or hexane.Zone / Paleo Diet Friendly.To drink: squeeze the package into 1 to 3 ounces of water or a favorite cold beverage and consume in one gulp.The product will not dissolve.

As a dietary supplement take one packet 1 to 2 times per day.For best results, snip or tear the notched end off the packet, squeeze into one or more ounces of your favorite cool beverage, drink on an empty stomach, and wait at least 15 minutes before eating.