KOS Organic Plant Based Protein Powder – Raw Organic Vegan Protein Blend, 2.6 Pound, 30 Servings (Chocolate)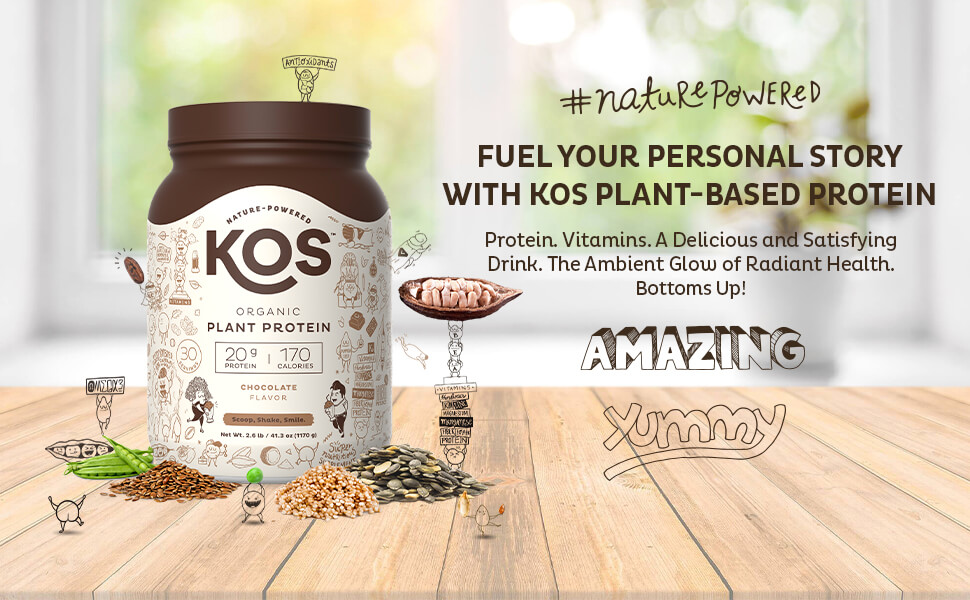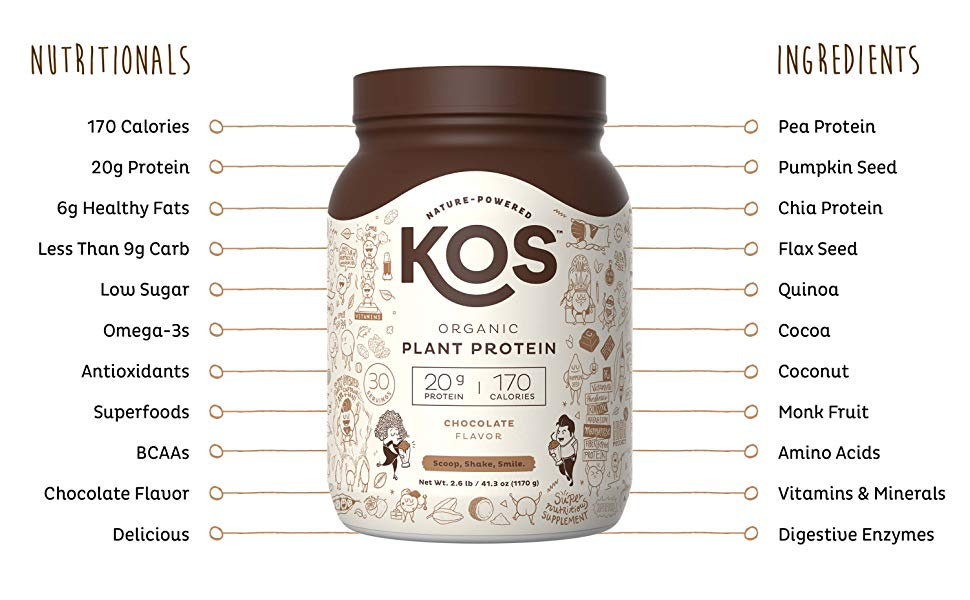 INGREDIENTS
Organic Pea Protein:Those peas you used to move endlessly around the dinner plate as a kid? They're a complete source of protein. If only you'd known! You see, peas contain those branched chain amino acids that contribute to building muscle, burning fat, and repairing your exhausted clockworks after a strenuous workout. Now, knowing all this likely wouldn't have changed your mind about peas as a kid. But at least you would have understood what you were hiding under your potato.
Organic Flax Seed Protein:Unless you're a fish, your body can't make omega-3. No problem. Flax seed is one of the richest vegan sources of essential omega-3. This fatty acid with the science-fictional name is critical to weight management, retinal health, fetal development…omega-3 is a big deal, and Flax is an omega-3 kingpin. Flax is also high in soluble and insoluble fiber, low in carbs, and ends with the cool letter X.
Organic Quinoa Protein:Quinoa is nearly unique in the Plant Kindgom. Why? It is a "complete protein", rare plant matter that contains all nine essential amino acids. Think of it as a cow you can toss into a salad. Packed with fiber, iron, magnesium, manganese—Quinoa is strangely potent. In fact, NASA is looking very closely at Quinoa as a Controlled Ecological Life Support System (CELSS); a foodstuff for astronauts on long interplanetary flights. Which makes Quinoa as ancient as the Incans who cultivated it, and as modern as a trip to Mars.
Organic Pumpkin Seed Protein:The seemingly unremarkable pumpkin seed is an incredibly useful thing for the body. Packed with protein, heart-helping magnesium, immune-boosting zinc, liver love, and the natural sleep-aid tryptophan – this jack-o'-lantern confetti is all things to all people. This mighty pumpkin seed is a friend to both Mars and Venus. Carotenoids and vitamin E round out the miracle. Did we mention antioxidants? Whew! This gourd will not leave you bored.
Organic Chia Seed Protein:Chia seeds can be spread over the backs of terra cotta animals to look like green hair. But there's more! These crazily tiny seeds are loaded with omega-3 fatty acids (those again), fiber, antioxidants, iron, and calcium. Lean muscle mass? Check. Burning of excess fat? Check! Drop them into water and chia seeds soak up about 12 times their volume in a scant 10 minutes, producing a nutrient-packed gel that can stand in for eggs in vegan cooking. The Aztecs considered these granular little seeds almost miraculous for their stamina-boosting qualities. We do too.
Organic Coconut Sugar:Twice the iron and zinc of granulated sugar and rich in potassium, Coconut Sugar is produced from the sap of the coconut palm flower, and not from the plummeting nut known for knocking tourists unconscious. Coconut Sugar offers vitamin C, magnesium, calcium, and a variety of other nutrients. Plentiful in antioxidant phytonutients (naturally occurring plant-based anti-toxins) this tree-based sugar is a healthy alternative to processed sweeteners.
Organic Stevia:Derived from a South American plant of the same name, Stevia's two main components are Stevioside and Rebaudioside A; and these are hundreds of times sweeter than table sugar. Stevia contains 0 calories and has a big fat 0 as its glycemic index, too. Lastly, it tastes really good in very small amounts, and if you shout its name in a crowded space, people named Steve will turn their heads. Another value-added.
Himalayan Pink Salt:The only salt known to have been discovered by none other than Alexander the Great, Himalayan salt is mined in the Punjab region of Pakistan. This far-flung table spice boasts a total of 84 minerals, including iron, magnesium, calcium, potassium, phosphorus and chloride, as well as trace amounts of body-burnishing boron, fluoride, iodine, zinc, selenium and copper. The best part of Himalayan salt? You don't have to scale the Himalayas to get it.
Organic Monk Fruit:Monk Fruit is a sweetener harvested from Southeast Asia. Remove the seeds and skin and crush the fruit, and the resulting extract is, like Stevia, about 200 times sweeter than sugar. Monk Fruit is native to China, and has been used there as a medicinal remedy for centuries. Monk Fruit is known to contain super-antioxidants called mogropides.
Nutrients and Minerals:One serving of vegan protein contains 20g of protein and only 170 calories (160 Vanilla); a nice ratio that allows you to tread lightly on calories while getting that sweet infusion of energy and nutrition you rely on to power your day.Dairy, Gluten, and Soy Free:Organic proteins tend to be hypoallergenic, unlike whey-based protein derivatives, whose lactose content can also add bloating and gas to the mix, and—yes—to the room. Even soy protein has its issues. KOS ingredients are sustainably sourced and plant-based, requiring fewer non-renewable resources to produce than animal-based protein products. At KOS we believe in going around the middlecow and diving straight into the greens; and the protein-rich, resource-light purity of the plant kingdom.
DigeSEB Enzyme Blend:Amylase, Protease, Lipase, Lactase, Cellulase. Sound like a biology test? This proprietary enzyme blend helps the body embrace and capitalize on its ingested proteins, maximizing absorption and wasting less of the ingested component parts.
Does Not Contain Peanuts.Contains Tree Nuts.