Immuneti Advanced Vitamin C, Zinc, Vitamin D3, Garlic Bulb, Elderberry, Echinacea 6-in-1 Supports Overall Health Immunity 60 Vegetarian Capsules
Immuneti Advanced Vitamin C, Zinc, Vitamin D3, Garlic Bulb, Elderberry, Echinacea 6-in-1 Supports Overall Health Immunity 60 Vegetarian Capsules
Regular price
₱1,295.00 PHP
Regular price
Sale price
₱1,295.00 PHP
Unit price
per
Sale
Sold out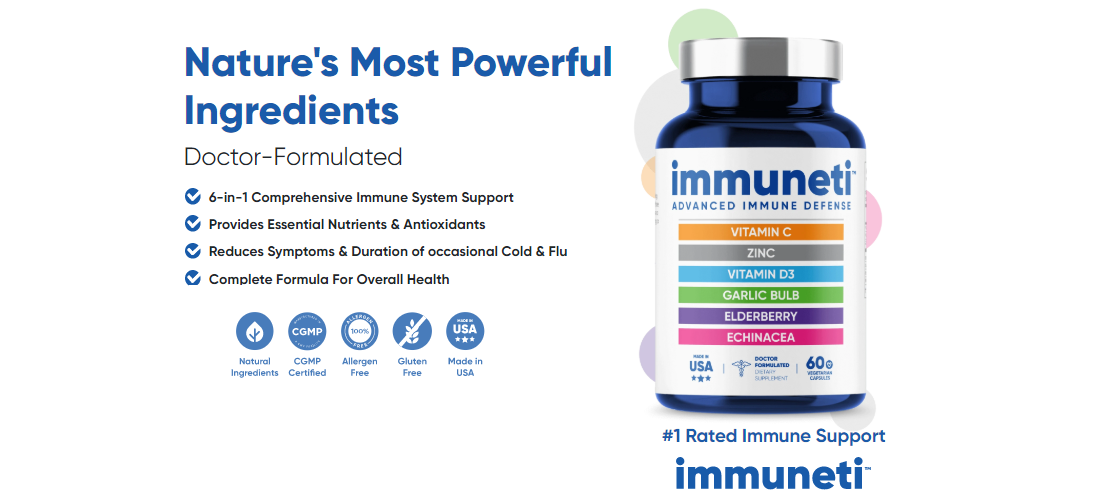 At immuneti we believe that good health is the key to a long and happy life. We are committed to sourcing nature's powerful ingredients and packaging them in one convenient multifunctional supplement. Our formula effectively strengthens your immune system while improving overall health.
Vitamin C & D3, Elderberries, Zinc, Echinacea and Garlic are known to enhance immunity. Our spectrum natural blend combines the most effective ingredients to proactively support your immune system.
6 in 1 powerful blend is the complete formula for immune support and overall health. Immuneti supports a healthy heart & respiratory function, promotes skin health, provides vital nutrients, and improves daily stress & mood.
Our combination of Garlic and Elderberry helps reduce the occurrence of the seasonal common cold and flu as well as reducing the severity of symptoms.
Vitamin C and Elderberry extracts are naturally occurring antioxidants that help reduce stress. Antioxidants that support healthy brain aging and mild memory problems associated with aging.
Share
View full details