Havasu Nutrition Elderberry Gummies Supports Immune System Health Made with Premium Plant-Based Pectin NO Gelatin, NO Fructose Corn Syrup, Gluten Free Natural Ingredients 60 Gummies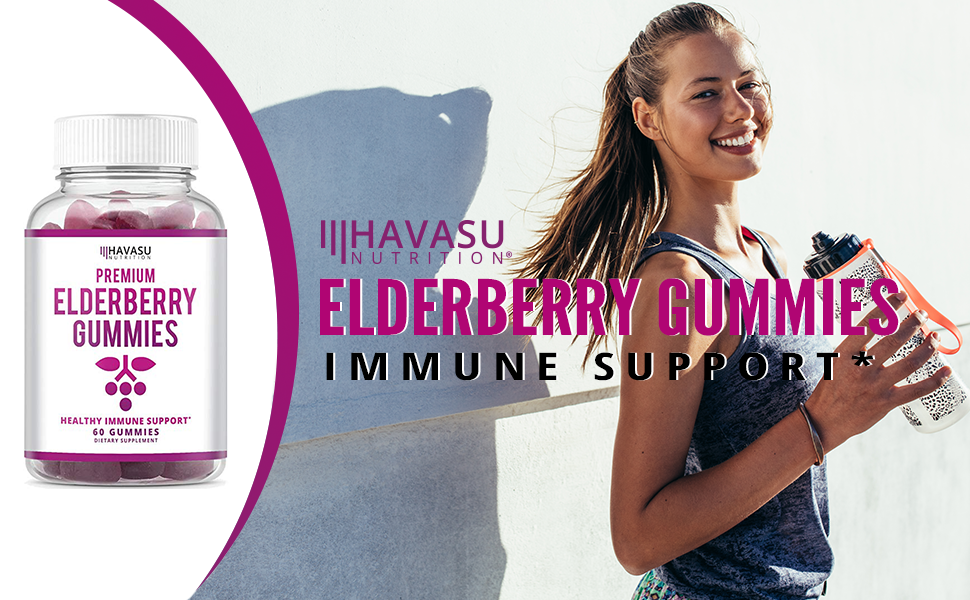 During transit, content 'unavoidably' becomes moist. this is normal & experienced also by US customers (you can check it online).
Moisture causes the foil seal to flip (sometimes upon opening) that does not mean it's not sealed, rest assured gummies are stored in a well conditioned place 24/7.
Elderberry Gummies - Supports Immune System Health - Made with Premium Plant-Based Pectin - NO Gelatin, NO Fructose Corn Syrup, Gluten Free - Natural Ingredients 60 Gummies Per Bottle

Content :60 Gummies Per Bottle

PREMIUM IMMUNE SUPPORT - Havasu ELDERBERRY GUMMIES are a delicious and convenient way to include the amazing Elderberry fruit along with immune-supportive nutrients Zinc and Vitamin C.*

SUPER IMMUNE RESPONSE - Elderberries are a tiny, tart & delicious superfruit and one of the best known botanicals to promote your super immune defenses!* For optimal protection, consume Havasu ELDERBERRY GUMMIES everyday, and throughout the year. You can also start immediately at the onset of those nagging signs such as a itchy throat, sneezing and sniffles.

STRENGTHEN YOUR DEFENSES NATURALLY* - Elderberry is super-immune fruit that delivers both antioxidant and immune support, due to its naturally occuring free radical defenders called anthocyanins.* For superior seasonal support, Havasu Elderberry Gummies also provide Vitamin C and Zinc, nutrients that play an important role in maintaining a healthy immune system.* Did you know a recent NHANES 2015 study found less than 10% of Americans get enough everyday Vitamin C from the diet!

MOST RELIABLE! Our team has formulated a delicious and not to sweet Elderberry Gummy that contains NO preservatives, NO artificial colors or flavorings, so you can trust that you are using an all-natural supplement! It also undergoes a stringent process of third party testing and documentation to ensure each bottle has exactly what it says it has. Propolis Echinacea Sambucus Nigra Vitamin C - Great for Kids AND Adults - Immune System Booster

INNOVATION:With partners who share a passion for nature's world, we have combined state-of-the-art manufacturing practices with botanical and formulation expertise to ensure cutting-edge, natural solutions.TRANSPARENCY AND TESTING:We set the bar higher at Havasu Nutrition. We know transparency is important to you and it should be! Before that bottle arrives to your location, it goes through a robust system that includes testing the raw materials and finished product. This testing includes microbial testing and testing for heavy metal and chemicals; identity and authenticity testing so you can assure purity; and the exact concentration of ingredients to ensure absolute safety. Every batch is tested in a ANS state-of-the-art facility and is third party tested to validate potency and integrity at an ISO accredited lab. You should never compromise when it comes to your health and need not to with Havasu Nutrition's quality standards.

PROUDLY MADE IN USA

: All products are manufactured in the United States with the highest quality and

safety.We establish stringent quality control standards in our state-of-the-art manufacturing facility and manufacture all our supplements to exceed expectations set by Current Good Manufacturing Practices.