Goli Superfruits Gummy with Collagen, Mixed Fruit, Vegan, Plant-Based, Non-GMO, Gluten-Free & Gelatin Free, 60 Gummies Multivitamin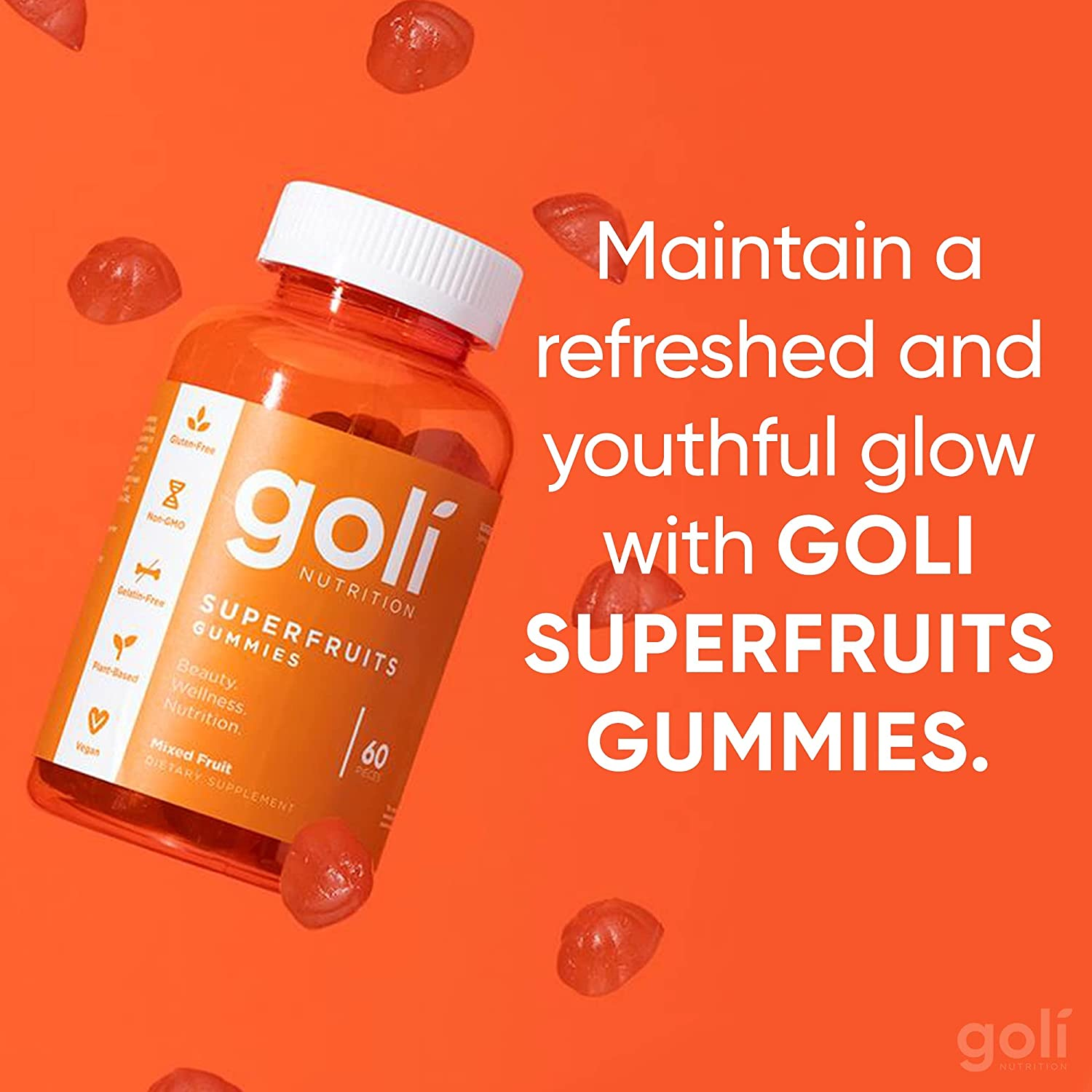 Goli's new Superfruits Gummies are a delicious, convenient way to include superfruits, essential nutrients and collagen-enhancing ingredients in to your daily wellness routine. Find yourself radiating from the inside out with our carefully crafted formula designed with beauty and wellness in mind.

Let your real beauty shine with Goli Superfruits. Beauty, Wellness, and Nutrition. Goli Nutrition is an inventive, people-focused nutrition company driven by the belief that happiness and wellness go hand in hand. We strive to provide innovative products, uniquely formulated with complementary ingredients all backed by science, that make taking your daily supplements enjoyable! Our Goli Superfruits Gummies are an easy and delicious way for consumers to incorporate superfruits and collagen-enhancing ingredients into their daily routine. Who doesn't want to look and feel their best? It's simple and delicious with Goli Superfruits Gummies. Maintain a refreshed and youthful glow with our unique blend of essential vitamins, minerals, and botanicals that promote collagen formation in the skin and support a healthy immune system. Radiate, rejuvenate and refresh from the inside out!

DISCLAIMER:
During transit, content 'unavoidably' becomes moist. This is normal & experienced also by US customers (you can check it online).
Moisture causes the foil seal to flip (sometimes upon opening) that does not mean it's not sealed, rest assured gummies are stored in a well conditioned place 24/7.

If product is delivered completely melted or formed in one glob, this means it's exposed to high heat during transit and is NOT fault of the seller. We can help you get a refund from the courier, just message us & we'll help you.