Everyday Medical Umbilical Hernia Belt Breathable Fabric Abdominal Binder with Naval Pad, S/M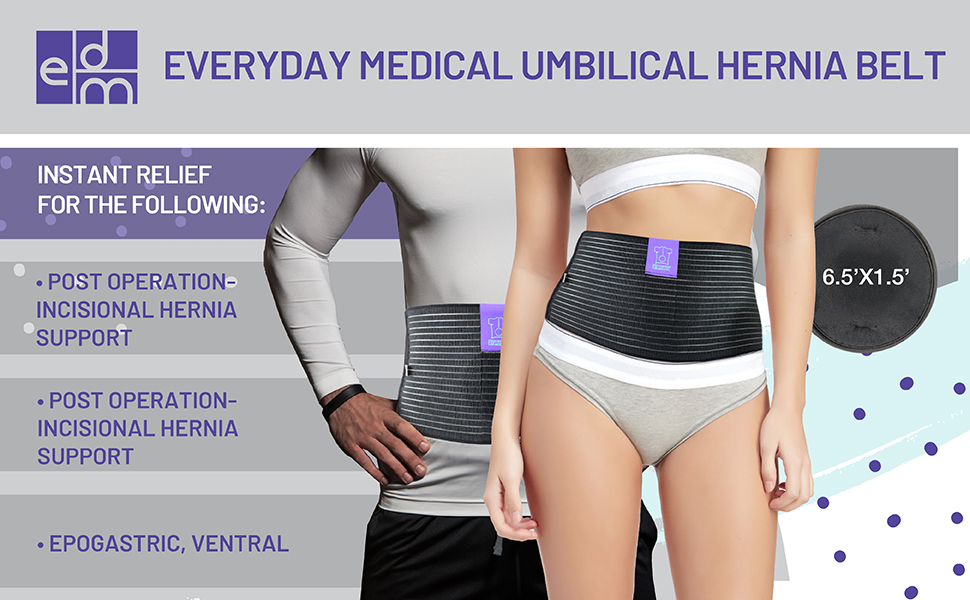 Umbilical Hernia Truss for Men and Women – Umbilical Hernia Belt with Adjustable Compression Pad.
Our umbilical hernia support belt for men and women helps reduce pain and discomfort associated with a variety of hernias including umbilical hernia, post-operational and incisional hernia, epigastric hernia, inguinal hernia, ventral hernia, as well as weakened abdominal muscles, commonly known as pendulous abdomen. Best known for its discreet, slimline design and ultra comfortable ribbed cotton blend material, our belt conforms to every inch of your midsection. Therefore you will not experience discomfort as your sitting, standing or moving around. Moreover easily wear this under your clothing no one will see it.
Most importantly, our hernia truss will provide immediate pain and discomfort relief to the abdominal section you are targeting.
Thanks to its updated slimline design this one-of-a-kind epigastric hernia belt for men and women provides all the support your body needs while you're recovering from hernia repair surgery. It is also a great non-intrusive, non-surgical option for patients with reducible hernia. Even if you don't have a diagnosed hernia, this umbilical hernia strap can provide immediate relief if you're experiencing pain while lifting, bending, or coughing.Made of elastic cotton blend fabric, this umbilical hernia belt for women and men conforms to the shape of your waist to provide a comfortable custom fit from the moment you put it on. You will not feel stiffness or pinching as your sitting due to this. Thanks to the inclusion of a portable compression pad, this truss provides protection to the incision wound and helps prevent complications during recovery. By keeping the hernia site safe and protected, this belt also helps speed up your recovery process.
This incisional hernia belt for women and men helps relieve the symptoms and discomfort associated with the following:
Umbilical hernia (navel and bellybutton)

Post-surgical recovery and incisional hernia support

Weakened abdominal muscles (pendulous abdomen)

Epigastric, inguinal, and ventral hernia

Undiagnosed and/or reducible hernia