Dr. Berg Raw Organic Wheatgrass Juice Powder Supplement Lemon Flavor with Stevia Sweetener, 164g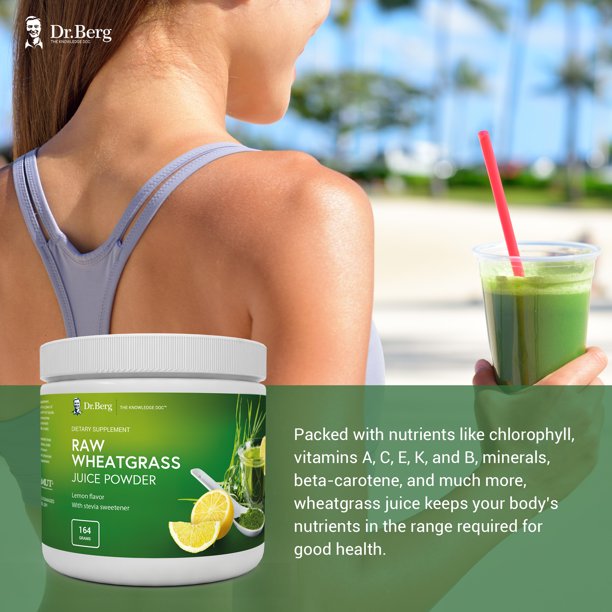 Dr. Berg's Lemon Organic Wheatgrass Superfood, the greatest superfood you have never heard of, is 100% pure, organic, and raw. It contains kamut and has a natural lemon flavor. Plus, it's rich in vitamins, chlorophyll, and trace minerals--ultra-concentrated and preserved with bioactive dehydration. You want to eat vegetables, but it's annoyingly difficult. Vegetables don't taste great, take too long to cook, and are expensive. But now, there's a concentrated vegetable juice that is packed with antioxidants and nutrients to help keep you strong and healthy. Why is it so much better? it's grown in the richest soil in North America. Our wheatgrass juice powder is massively nutrient-dense. It is grown on soils which were once on the ancient sea bed of Utah. These soils are unusually rich in minerals and trace minerals. Our wheatgrass juice powder is dark green, alive, and very aromatic. You'll notice the difference in this wheatgrass juice powder by its deep green color, soothing taste, and aromatic smell.
MORE THAN JUST A POWDER- For those who need vegetables but can't deal with the taste or cooking time, Dr. Berg's Lemon Organic Wheatgrass Superfood, is packed with nutrients to help keep you strong and healthy!
POWERFUL NUTRIENTS IN EVERY SERVING- Just a teaspoon is packed with vitamins, minerals, chlorophylls, antioxidants, and much more, from an ancient seabed in Utah, to promote healthy immune function.
PROMOTES WEIGHT LOSS & DETOX- All the nutrients in this powder play crucial roles in a healthy body, and this powder rejuvenates, cleanses, and promotes normal white blood cell levels.
CONVENIENT & AFFORDABLE- For only 69 cents per serving, you can replace your vegetables with a convenient, nutritious drink. Just stir a teaspoon into water for simple on-the-go nutrition!