Dakota Extra Strength Elderberry Sambucus Gummies with Zinc & Vitamin C, 60 Gummies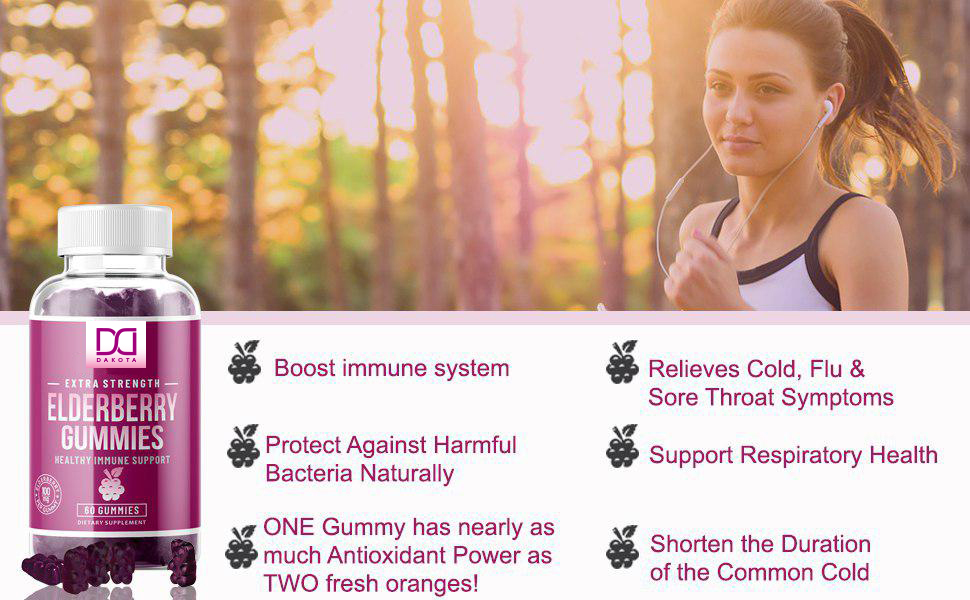 DISCLAIMER:
During transit, content 'unavoidably' becomes moist. this is normal & experienced also by US customers (you can check it online). Moisture causes the foil seal to flip (sometimes upon opening) that does not mean it's not sealed, rest assured gummies are stored in a well conditioned place 24/7. If product is delivered completely melted or formed in one glob, this means it's exposed to high heat during transit and is NOT fault of the seller. We can help you get a refund from the courier, just message us & we'll help you.
Plant-based, clean gummy:
Our non-GMO gummies contain only natural fruit flavors and no preservatives, no high fructose corn syrup or glucose syrup.Our formula is fortified with Vitamin C and Zinc to support an optimal immune response with just one serving per day.
Packed with Essential Vitamins and Minerals:
With your best health in mind, we have made our health gummies using all the essential vitamins and minerals that your body needs on a regular basis.A gum provides almost 100% more vitamin C than a single orange.
Extra strength supplement:
No more fatigue and exhaustion.Get ready to feel the extra strength with our elderberry supplement.You'll experience faster, efficient and better results with just a few servings!150 mg of elderberry per serving.