BeLive Turmeric, Ginger with Black Pepper Joint Support, Pain Relief & Anti-Inflammatory, 60 Tropical Flavor Gummies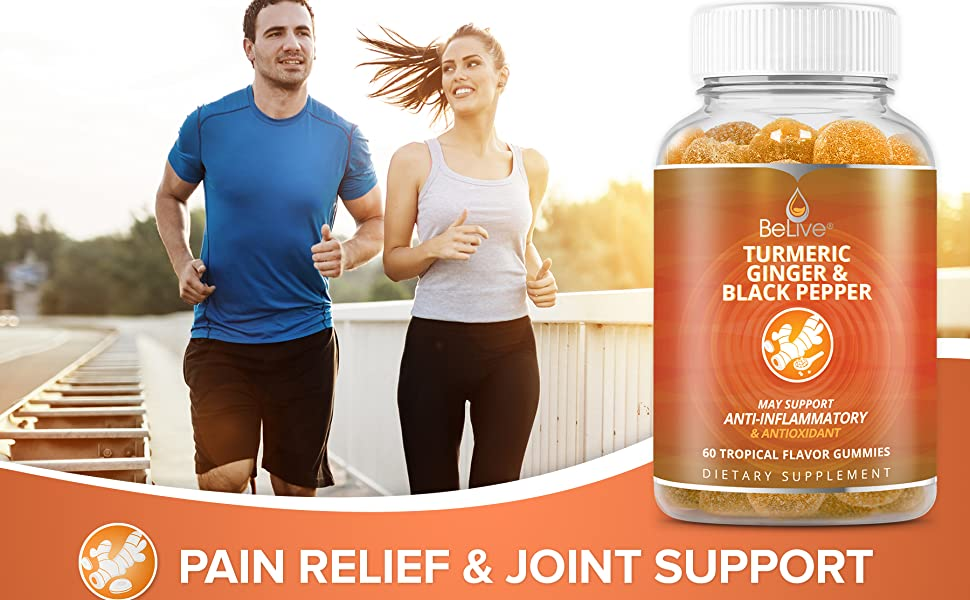 DISCLAIMER:
During transit, content 'unavoidably' becomes moist. this is normal & experienced also by US customers (you can check it online). Moisture causes the foil seal to flip (sometimes upon opening) that does not mean it's not sealed, rest assured gummies are stored in a well conditioned place 24/7. If product is delivered completely melted or formed in one glob, this means it's exposed to high heat during transit and is NOT fault of the seller. We can help you get a refund from the courier, just message us & we'll help you.
A DELICIOUS AND CONVENIENT WAY TO TAKE YOUR HEALTH SUPPLEMENTS!
Turmeric Curcuminturmeric rootginger
High in phenolic compounds, antioxidants, and anti-inflammatory agents, both are also traditionally used to relieve pain and enhance immune function, helping the body protect against long-term inflammation.
Sustained inflammation caused by hereditary issues, age and poor diet has been linked to many chronic health problems. A ginger turmeric curcumin supplement is rich in antioxidants and anti-inflammatory compounds and can assist you in maintaining a healthy brain and body from childhood through adulthood and into old age.