BeLive Probiotic for Kids & Adults Digestive Health, Sugar-free (70 Strawberry & Orange Gummies)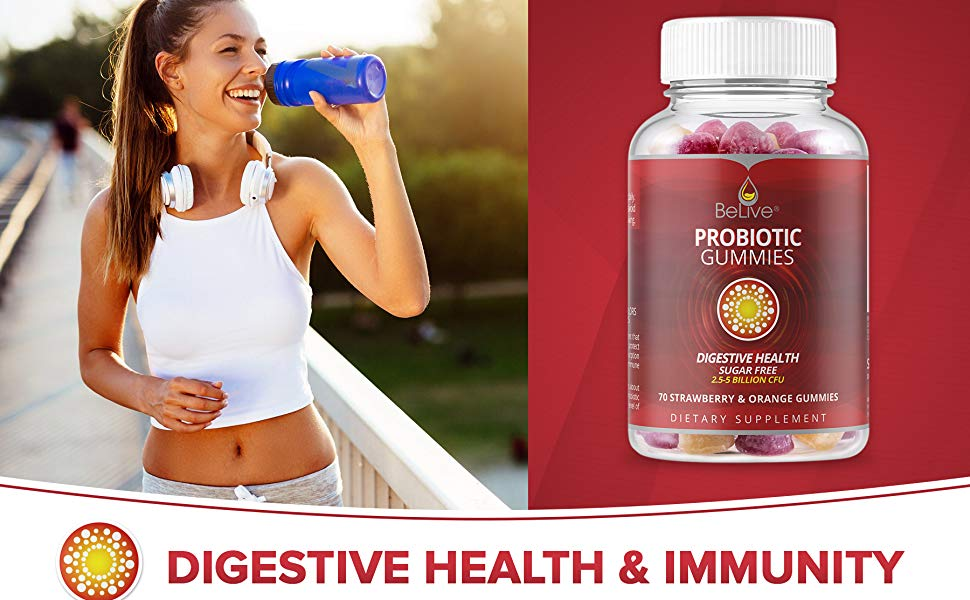 During transit, content 'unavoidably' becomes moist. this is normal & experienced also by US customers (you can check it online).

Moisture causes the foil seal to flip (sometimes upon opening) that does not mean it's not sealed, rest assured gummies are stored in a well conditioned place 24/7.
A DELICIOUS AND CONVENIENT WAY TO TAKE YOUR HEALTH SUPPLEMENTS!
What Are Probiotics?
Probiotics are live bacteria and yeasts – also known as "friendly bacteria" – that benefit your health, especially your digestive system, and can be found in dietary supplements and food.
The active ingredient in our probiotics supplement is Bacillus coagulans (sometimes called Lactobacillus sporogenes), a vegan strain of bacteria that is highly stable through shelf life and can withstand the effects of stomach acid, so it gets to where it needs to go in your digestive system.

The gut biome is highly sensitive to diet, and studies show that an unbalanced biome is linked to numerous diseases. A probiotic bacteria works to improve digestive function and gut health by replacing the "bad" bacteria in your digestive system with beneficial bacteria.

Can be helpful for weight gain prevention

Provides extra flavor without adding extra calories if any at all