BeLive Probiotic 5 Billion CFU, Sugar Free, Orange, Blueberry & Strawberry Flavor, 60 Gummies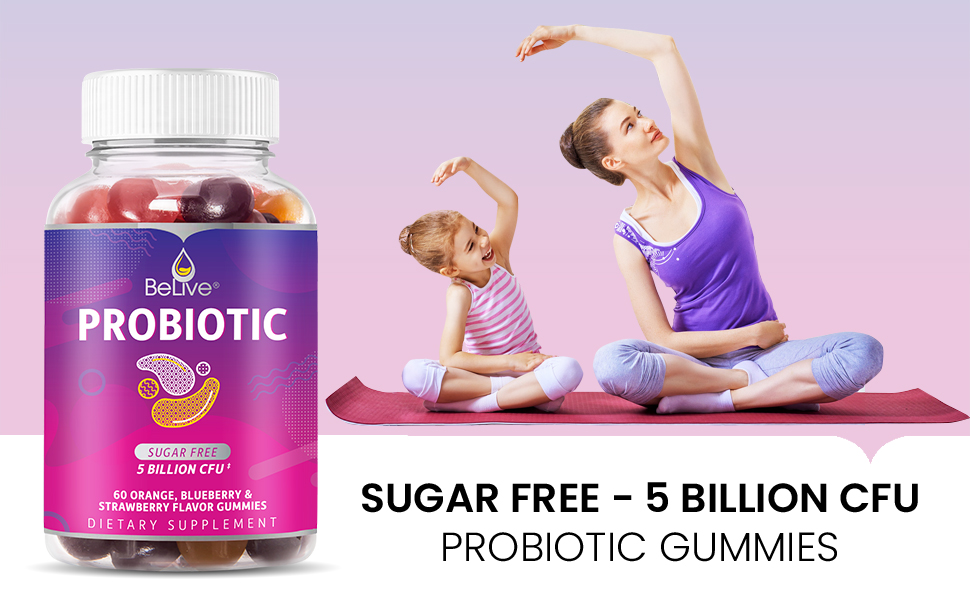 DISCLAIMER:
During transit, content 'unavoidably' becomes moist. this is normal & experienced also by US customers (you can check it online). Moisture causes the foil seal to flip (sometimes upon opening) that does not mean it's not sealed, rest assured gummies are stored in a well conditioned place 24/7. If product is delivered completely melted or formed in one glob, this means it's exposed to high heat during transit and is NOT fault of the seller. We can help you get a refund from the courier, just message us & we'll help you.
Probiotic Gummies Help Support Overall Health by Enhancing Digestive Function
A number of underlying health issues are linked to poor digestive health. This is because the gastrointestinal (GI) tract not only regulates the absorption of nutrients (e.g., vitamins, antioxidants, carbohydrates, proteins) but also houses millions of nerves and immune system cells that communicate directly with the brain.

The scientifically-supported form of healthy bacteria in BeLive Probiotic Gummies simultaneously boosts digestive processes, natural antioxidant activity, immunity, and overall health by promoting optimal GI function.
Probiotic Sugar-Free Gummies
The Highest Potency Of Any Probiotic Gummies Supplement On The Market.
Directions:
In addition to these benefits, BeLive Probiotic Gummies are sugar-free. Sugar can decrease the number of healthy bacteria in the gut, causing an imbalance of good and bad bacteria that can lead to health problems